If you think you may be experiencing a medical emergency, immediately call your doctor or 911.
One of the main goals of the hospital Emergency Department is to reduce the time patients wait to see an Emergency Department physician. We have accomplished this by initiating processes and best demonstrated practices to ensure patients are cared for efficiently and effectively. In fact, we have been so successful that we now post wait times on billboards and our web site. You can even text ER to 23000 to obtain our current average wait times!
Kid-Friendly Emergency Care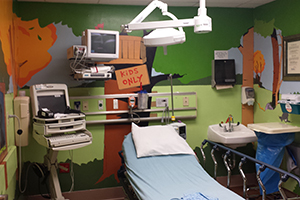 We understand that children are not just little adults. They require specialized care in a warm environment. We are pleased to offer a private emergency room decorated in woodland forest theme just for pediatric patients, called the Westside Forrest. Our new private emergency room and our experienced emergency care team will get children better in no time.
Our staff knows that treating kids is different than treating adults. With that in mind, if your little one needs extra care, Plantation General Hospital has a dedicated Pediatric Intensive Care Unit and a network of pediatric specialists providing individualized treatment plans for complex chronic conditions.
Expand All
Collapse All
What should happen when I arrive?
Expect one of our team members to promptly obtain your name and measure your vital signs when you first arrive. Then, we will bring you to a treatment room, if available. The nurse may request that you wear a hospital gown so the physician is able to thoroughly examine your condition and identify tests that you may need.
What type of information will the Emergency Department require?
Your name and date of birth (driver's license or photo identification is helpful)
Reason for your visit to the Emergency Department
A list of the medications you take at home
What doctors have taken care of you in the past (PCP & specialists)
What should I expect my treatment to be like?
Your care will be tailored according to the reason you came to the Emergency Department. The physician may only need to speak with you and provide you with simple instructions and/or prescriptions. However, if your condition is more serious, you may require extensive testing. The physician may order the nurse to start an IV, draw blood work, perform special bedside testing, or order radiological exams. The facility offers cutting-edge technology to ensure accurate diagnosis and effective treatment plans.
What is "triage" and why is it important?
Although we never want our patients to have to wait for treatment, at times we are very busy and need to make sure the sickest patients are seen first. The nurse may be the first staff member you see in the treatment room. He/ she may ask you several important questions about your condition, medical history and medications, as well as assess you. The nurse will then assign you a triage "score" which indicates the severity of illness. The physicians use the score to identify which patients need to be seen first.
Will I have to be admitted to the hospital?
Once your treatment is completed, you may be either discharged to home or admitted to the hospital. If you are going home, the physician will talk with you about your diagnosis and answer all your questions. Then the physician will prepare discharge paperwork. Your nurse will then give you written instructions on how to care for yourself at home, prescriptions if needed, and what follow up treatment is recommend. If you need to be admitted, the ED physician will contact the appropriate physician to admit you to the hospital based on your diagnosis and condition. We will then arrange for a room in the hospital based on your needs. We will make every attempt to make you as comfortable as possible until your room is ready.
Can someone be with me while I am in a treatment room?
Yes, you may have visitors with you as long as they remain at your bedside. There are, however, times when we may ask your visitors to remain in the reception area. These requests are made to protect patient privacy and when our physicians need to provide additional care. Your visitors should feel free to ask a nurse about your condition whenever they feel anxious or concerned.
InformER
Keep your family and friends in the know with each medical milestone in our Emergency Department via this revolutionary text service. InformER is a new and revolutionary HCA Text Service that provides status updates to patients, family members, and friends regarding the medical milestones of a patient's ER visit. Once you are registered you will receive status updates on your phone. You can forward the registration code you receive to your loved ones, so they can also register and receive your updates. Up to 5 members can be added.
ED Kisoks
The Emergency Department continually strives to advance the patient check-in process with new technologies such as the self-service ED KIOSK. With billions of self-service transactions taking place each year, today's patients expect healthcare providers to deliver the same level of convenience they receive from leading retailers, airlines, and hotels. The new check-in process is simple. Patients have the option of manually entering in their own information or scanning their Florida Driver's License and the reason for their visit. Once their information is entered into the system, the triage nurse is automatically notified of their arrival. Yet another key advantage of using the ED Kiosks is that all the information the patient provides will accurately captured in the patient's medical record.
Need help finding a physician?
For routine health matters and check–ups, contact your primary care physician. Regular check–ups with a primary care physician is the best way to maintain good health.
Visit Find a Physician on this website, or call 954–370–5585 for a free physician referral.