Westside Regional Medical Center provides patients with a comprehensive range of treatments and therapies to help them lead vital lives. By working toward each patient's maximum potential, our multidisciplinary team of specialists can help improve the quality of life in a manner that is personalized to each individual.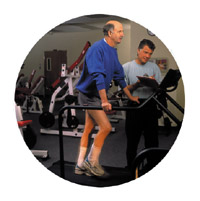 Our professional staff specializes in physical therapy, speech and language pathology and lymphedema services; all of which are provided on an outpatient basis. In addition to using the latest in medical technology and an experienced team of medical professionals, we provide these services in an environment of compassion.
Physical Therapy
The Physical Therapy department provides services for individuals whose potential or impairment is related to neuromuscular, skeletal, pulmonary and cardiovascular systems. Our goal is to maintain, improve and restore these vital functions. Services offered include:
Patient evaluation and consultation
Basic balance to advanced balance activities
Biofeedback training
Free-weight strengthening exercise
Therapeutic modalities
Acute wound care services
For more information about the Physical Therapy department please call (954)476-3959.
Pelvic Rehabilitation
The Physical Therapy Department at Westside Regional Medical Center offers a comprehensive assessment and treatment of various types of pelvic floor disorders. While pelvic dysfunction has numerous causes, a weakness or tightness of the pelvic floor musculature can result in several symptoms including pelvic pain, bowel/bladder incontinence and sexual dysfunction. Our approach includes a strategic combination of biofeedback training, core strengthening and manual techniques. We collaborate with your physician to determine your specific needs and design an individualized treatment program that will fit your lifestyle. Some common pelvic floor disorders include the following:
Incontinence – Loss of control over bowel and/or bladder can interfere with one's quality of life. Many different types of incontinence exist including urinary, fecal, stress, urge and mixed incontinence. The condition of the pelvic floor muscles which control elimination will be assessed and strengthened utilizing biofeedback therapy. In addition, certain lifestyle modifications can be made that will complement this program.
Pelvic Pain – Difficulties with elimination, sitting, walking and intercourse can be a sign of a pelvic pain syndrome. Structural abnormalities of the lumbosacral region, a history of pelvic surgery, trauma, or damage to the pelvic nerves and muscles can lead to chronic pain. Manual techniques, core strengthening and stretching of the pelvic floor muscles can be combined to target specific areas that cause this pain.
Interstitial Cystitis – Urinary frequency, urgency and pain are common symptoms experienced by patients with interstitial cystitis. In some cases, patients with interstitial cystitis also have spasticity of the pelvic floor muscles which can be treated with a combination of stretching and manual techniques.
Lymphedema Services
Lymphedema is an uncomfortable and sometimes painful swelling of a body part due to an accumulation of protein-rich fluid in the tissues. This disease occurs most commonly in breast cancer patients. In addition to swelling, lymphedema patients may experience reduced mobility, weakness and frequent infections. However, Westside offers several options to help relieve discomfort and restore range of motion, including:
Lymph massage drainage
Skin care
Range-of-motion therapy
Strengthening exercises
Compression bandaging
For more information about Lymphedema Services please call (954)476-3959.
Speech/Language Pathology
This unique program offers patients a variety of treatment options to help rebuild speech impediments resulting from conditions such as stroke, cancer, Parkinson's disease, diseases of the larynx and other neurological disorders. Following the careful evaluation of each patient, our highly experienced Speech/Language Pathologist designs and implements a program to treat disorders of speech, language and swallowing. In addition to a variety of treatment options, we offer state-of-the-art Video Fluoroscopic examinations, which enable the pathologist to determine a patient's condition with great accuracy. For more information about the Speech/Language Pathology program please call (954)916-5466.
Quality Care You Can Trust
By combining the experience of our multidisciplinary team, the technology of state-of-the-art equipment and the compassion of caring professionals, our Rehabilitation Services offer quality care that you can trust.