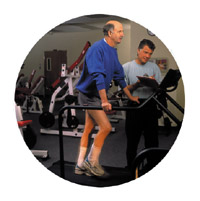 Our goal is to help patients recover function and improve their quality of life. We are pleased to offer Physical Therapy services in a wide variety of areas including:
Orthopedics & Sports Injuries
Balance/Coordination & Vestibular Rehabilitation
Neurological & Neurosurgical Rehabilitation
General Stretching & Strengthening
Stroke Rehabilitation
Our specialty services include:
Lymphedema Management
Management of Urinary & Fecal Incontinence
Pelvic Floor Rehabilitation & Biofeedback
To Schedule an Appointment, please obtain a prescription from your doctor and call us at (954) 476-3959.
Expand All
Collapse All
Patient Benefits
Our patients benefit from:
Updated Equipment
Flexible Patient Scheduling
One on One Care
Physical Therapy
Our physical therapists use a "hands-on" approach to treat many conditions. This form of rehabilitation treatment uses soft tissue mobilization, joint mobilization, and various connective tissue techniques. Our patients are given individualized attention and treatments in a relaxed and friendly environment.
Lymphedema Therapy
Westside Regional Medical Center provides patients with a comprehensive program for lymphedema management via compression bandaging, exercise, and manual lymphatic drainage. Our focus is on extensive patient education in self-management of lymphedema.
Pelvic Floor Rehabilitation & Incontinence
Pelvic floor rehabilitation can encompass a wide variety of conditions including pelvic pain, post-partum issues, urological/colorectal disorders and incontinence. Biofeedback is a computer aided technology that is often used during pelvic floor rehabilitation which can help the patient regain control of the pelvic floor muscles.
Collapse All