Westside has two Emergency Rooms in Broward County
Our ERs provide the greater Fort Lauderdale area with immediate 24-hour care. With two convenient locations in Plantation and Davie, our emergency rooms are always available when you need us. We offer a wide range of treatments for all ages. Our emergency rooms are open 24 hours a day, 7 days a week where we offer convenient care. Both ERs are committed to:
Minimal wait times
Exceptional care from board certified emergency physicians
Expert care from emergency trained staff
Delivering a complete range of emergency room services
Providing thorough pediatric emergency care
Offering a full service laboratory

X-ray services
64 Slice CT Scanner
Ultrasound

Access to all specialty services and physicians at HCA Hospitals of Broward
Westside Regional Medical Center ER in Plantation, FL
Our location:
8201 W. Broward Blvd
Plantation, FL 33324
Telephone: (954) 473-6600
maps & directions
If you are looking for the closest emergency room in Plantation, our experienced ER doctors and nurses are specially trained to provide rapid care. We employ best practices to ensure short wait times and thorough treatment. Providing exceptional, efficient and effective care is our main priority.
Plantation pediatric emergency care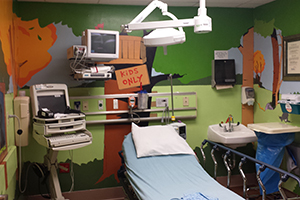 We understand that children are not just little adults. They require specialized care in a warm environment. We are pleased to offer the Westside Forrest, a private emergency room decorated in a woodland forest theme just for pediatric patients. Our new private emergency room and experienced team will get children better in no time.
Our staff knows that treating kids is different than treating adults. With that in mind, if your little one needs extra care, Plantation General Hospital has a dedicated Pediatric Intensive Care Unit and a network of pediatric specialists providing individualized treatment plans for complex chronic conditions.
Freestanding ER at Nova Southeastern University in Davie, FL
Our location:
3476 South University Dr.
Davie, FL 33328
maps & directions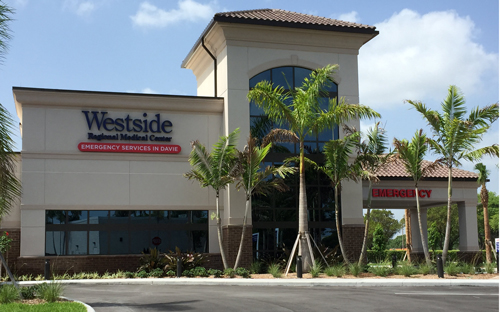 Westside Regional Medical Center's off-site emergency room on Nova Southeastern University campus is located in the University Park Plaza shopping center. Westside's Davie ER provides the same level of care as Westside Regional Medical Center's main campus ER.
A virtual tour of ER in Davie
ER FAQ
Need help finding a physician?
For routine health matters and check-ups, contact your primary care physician. Regular check-ups with a primary care physician is the best way to maintain good health.
Visit Find a Physician on this website, or call (954) 370-5585 for a free physician referral.