If you think you may be experiencing a medical emergency, immediately call your doctor or 911.
One of the main goals of the hospital Emergency Department is to reduce the time patients wait to see an Emergency Department physician. We have accomplished this by initiating processes and best demonstrated practices to ensure patients are cared for efficiently and effectively. In fact, we have been so successful that we now post wait times on billboards and our web site. You can even text ER to 32222 to obtain our current average wait times!
Kid-Friendly Emergency Care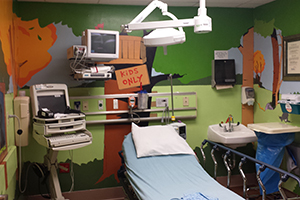 We understand that children are not just little adults. They require specialized care in a warm environment. We are pleased to offer a private emergency room decorated in a woodland forest theme just for pediatric patients, called the Westside Forrest. Our new private emergency room and our experienced emergency care team will get children better in no time.
Our staff knows that treating kids is different than treating adults. With that in mind, if your little one needs extra care, Plantation General Hospital has a dedicated Pediatric Intensive Care Unit and a network of pediatric specialists providing individualized treatment plans for complex chronic conditions.
Need help finding a physician?
For routine health matters and check-ups, contact your primary care physician. Regular check-ups with a primary care physician is the best way to maintain good health.
Visit Find a Physician on this website, or call (954) 370-5585 for a free physician referral.