Contact Us
For any additional questions, please contact Eric Quirion at (954) 724-6646.
Welcome from our Program Director
Welcome and thank you for your interest in HCA Healthcare's Westside Regional/Northwest Anesthesiology Residency Program.
Our program is a newly accredited ACGME categorical anesthesiology residency. Our combined program offers training at Westside Regional and Norwest medical center, both located in the suburbs of Fort Lauderdale, Florida. With the support of hospital leadership, we are looking forward to creating one of the best training programs for future anesthesiologists.
Mission Statement
The Westside Regional Medical Center Anesthesia Residency program's mission is to develop the next generation of physicians and physician leaders. As a part of HCA Healthcare, we are driven by a single mission: Above all else, we are committed to the care and improvement of human life.
This program is designed to offer residents a rewarding, educational environment where residents are provided individualized learning opportunities by faculty and staff who support and sustain one another throughout quality care delivery. Our faculty are committed to ensuring the residents' clinical experience and educational needs are fulfilled while expanding residents' perspectives to be inclusive of cultures, values, and ideals.
Program Overview
The Anesthesiology Residency Program at Westside Regional Medical Center is accredited and rigorously designed to train the next generation of physicians and physician leaders.
Our interdisciplinary approach to learning fosters excellent opportunities for professional growth, committed mentorship and clinical research. Alongside dedicated attending physicians and enthusiastic colleagues, residents strive for excellence in their training and provide high-quality healthcare in patient-centered environments and community-oriented service.
Get to Know the Team
Imani K. Thornton, MD, Program Director
---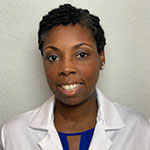 Curriculum and Rotation Details
Our program consists of 36 Months of Clinical Anesthesiology following the clinical base or PGY-1 year.
The program consists of an organized month-long CA-1 Orientation, 21 clinical rotations, and a formal educational curriculum.
Our program is designed to meet or exceed all ACGME requirements and prepare our residents for every step in the board certification process from the Basic written exam to the Applied OSCE exam.
Salary & Benefits Information
Benefits
Health and disability insurance on first day of employment
Educational allowance as per GME policy
Conference attendance as per program policy
Paid BLS/ACLS/PALS/ATLS as required by the program
Meals provided while working in the clinical environment
Lab jackets
Other items based on specific program need