Comprehensive Stroke Center
Westside Regional Medical Center is certified as a Comprehensive Stroke Center by the Florida Agency for Healthcare Administration amd a Primary Stroke Center by the Joint Commission.
Our stroke program meet their stringent requirements and has demonstrates that we follow national standards and guidelines in order to significantly improve outcomes for stroke patients.
What is a Stroke?
A stroke occurs when a part of the brain's blood supply is suddenly interrupted by a clot or when a blood vessel bursts. When blood flow is blocked, brain cells die because oxygen and nutrients cannot get through.
Nearly 795,000 Americans suffer a stroke each year.
Stroke is the 5th leading cause of death in the United States and is the leading cause of long term disability
Only 10% of stroke survivors recover completely
37% of all Americans cannot identify any warning signs for stroke.
80% of all strokes are preventable
Signs and Symptoms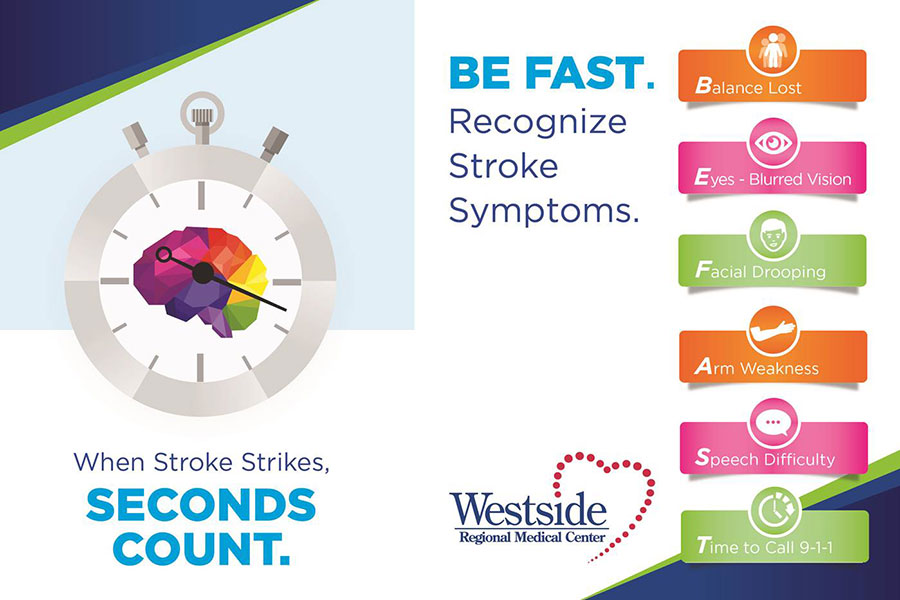 BE FAST. Recognize Stroke Symptoms.
Balance Lost
Eyes - Blurred Vision
Facial Drooping
Arm Weakness
Speech Difficulty
Time to Call 9-1-1
Know the warning signs of a stroke by remembering to spot a stroke, BE FAST:
B = Balance
Is there a sudden loss of balance or coordination?
E = Eyes
Is there sudden blurred or double vision or sudden, persistent vision trouble?
F = Face
Ask the person to smile. Does one side of the face droop?
A = Arm
Ask the person to raise both arms. Does one arm drift downward?
S = Speech
Ask the person to repeat a simple phrase. Does the speech sound slurred?
T = Time
If you observe any of these signs, it's time to call 9-1-1and ask to be transported to the nearest stroke hospital.
It's important to remember the risk factors and warning signs for a stroke. Make sure you and your loved ones become educated. It could help you to save a life.
Can I prevent a stroke?
Many strokes can be prevented. Stroke prevention starts with a proper diet, plenty of exercise, and a healthy lifestyle. In some cases, medication may be an option to reduce stroke risk factors. If you or someone you love is at risk for stroke, it's not too late to make lifestyle changes, starting now.
High blood pressure is the single greatest risk factor many people can control. It's a good idea to check your blood pressure regularly and work with your doctor to control it.
Other risk factors you should work with your doctor to control include:
Diabetes
High cholesterol
Heart disease
Abnormal heart rhythm (atrial fibrillation, or AFib)
Additional Resources on Stroke
For more information on stroke symptoms, risk factors and statistics, please visit our Health Library and The American Stroke Association.