Enhanced safety protections
---
Never delay care, during the global pandemic or otherwise, to avoid a trip to the emergency room. Specific symptoms, including those of heart attack or stroke, require professional medical evaluation and timely treatment to reduce the risk of serious complications or worse. Our emergency rooms have introduced enhanced precautions to ensure a safe environment for all involved. We are here for you and we are well-equipped to handle any health concern you may have.
Emergency room in Plantation, Florida
When minutes matter and you need emergency care close to home, you can depend on Westside Regional Medical Center to provide quick, superior emergency medical attention. Our ER physicians are board certified in emergency medicine and provide care for patients of all ages.
We have two convenient ER locations in west Broward County—at our hospital in Plantation and a freestanding emergency room in Davie.
If you or someone you know is experiencing a medical emergency, please call 911 immediately.
Find out our average ER wait time simply by texting 'ER' to 32222.
Features of our ER
Our ER is open 24/7 and offers:
Minimal wait times
High-caliber care from board-certified emergency physicians and emergency-trained staff
Dedicated private pediatric ER and specialized care for pediatric patients
Full-service diagnostic laboratory, including X-rays, CT scans and ultrasounds on site
Access to all specialty services and physicians at HCA Hospitals of Broward County
ER self-service patient check-in kiosks
Free Wi-Fi
What to expect at the ER
Upon arrival to the ER, a triage nurse will assess your symptoms and vital signs. Next, a registration clerk will gather your insurance and relevant medical information. We medically screen, evaluate and stabilize all patients whether or not they have insurance or are able to pay.
Incoming patients with severe, life-threatening illnesses or injuries will be treated first. All other patients will be treated in the order they arrived.
Before discharge, be sure to ask any questions and keep all paperwork, discharge information and medicines you have received. Our ER staff will contact your primary care provider for updates to your medical record.
What to bring to the ER
When coming to the ER, it is recommended to bring:
List of medicines you currently take
List of known allergies
Copy of results from recent medical tests, if available
Personal care preferences and restrictions
A responsible adult or phone number for someone to contact
Freestanding ER in Davie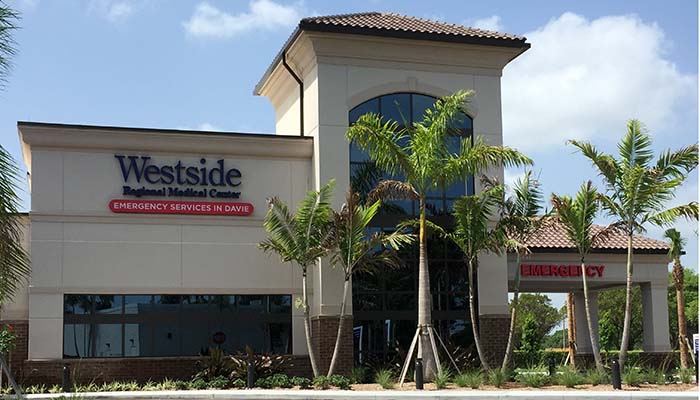 We have a second ER location on Nova Southeastern University's campus in Davie, Florida. This ER, in the University Park Plaza shopping center, is staffed with an expert emergency team ready to provide the same level of exceptional, rapid care.
Map & Directions
Pediatric emergency care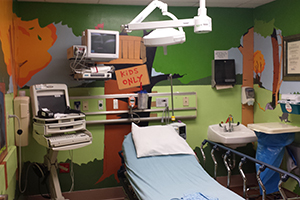 Understanding that bringing your injured or ill child to the ER can be frightening and stressful for both of you, our emergency team is committed to providing require specialized pediatric care in a warm, welcoming environment.
We are pleased to offer the Westside Forest, a private ER decorated in a woodland forest theme just for pediatric patients. Your child will benefit from our private ER along with compassionate pediatric expertise during his or her medical emergency.
We understand you play an important role in your child's health and treatment. Our emergency physicians and nurses will communicate with you every step of the way so you can make informed decisions for the health of your child.
Our pediatric-friendly ER features:
Physicians and nurses with special training and expertise in pediatric care
Games, coloring books and teddy bears to calm and comfort your child during his or her time in our ER
Family-friendly environment
Less harsh medications, such as nitrous oxide as a sedation medication for qualifying pediatric patients
Pediatric patient transfer as needed to our sister facility
When to go to the ER
Sometimes it's difficult to determine which level of care you need, such as whether you should go to the ER or wait for your doctor's office to open. Knowing where to go when you need immediate care can be life-saving. Westside Regional's ER is open 24/7 to treat all types of emergency medical conditions.
Almost all symptoms can range in severity. Below is a list of symptoms that may indicate you need to visit the ER:
Back pain: When it is unbearable or accompanied by fever, numbness, weakness, confusion, slurred speech, vision loss or loss of control over bladder or bowels
Broken bones: When the pain is severe or there is a visible deformity or bone bulging through the skin
Chest pain: When it is crushing or squeezing and accompanied by other heart attack symptoms, such as shortness of breath or nausea
Concussion: When you have lost consciousness, even briefly, or experience amnesia, vomiting, slurred speech or a seizure
Flu: When symptoms become severe, such as having trouble breathing, vomiting uncontrollably, becoming dehydrated or developing pneumonia
Side pain: When you have severe pain in the lower right stomach, side or back or have side pain in addition to fever, nausea, diarrhea or blood in the urine
Stomach pain: When you experience pain in addition to a hard or tender stomach, nausea, shortness of breath, fever or irregular heartbeat
Stroke: Always call 911 immediately if stroke symptoms are present, such as sudden numbness (specifically on one side of the body), confusion, dizziness and sudden severe headache
Trouble breathing: When breathing stops, is noisy or high-pitched and comes with pain in the chest or severe shortness of breath
Not sure if you should come to the ER or wait for your doctor's office to open? Call our Consult-A-Nurse® team at (954) 370-5585 24/7 or learn more about common ER conditions and symptoms.